DIY "Anthro Scented" Candles
Not sure about you, but I'm sick of over paying for a decent candle. Especially my all time favorite a Capri Blue Volcano scent candle AKA the "Anthropologie Candle."
It was honestly a lot easier than I thought. Initially it costs a bit but actually only ends up being a few bucks for each candle.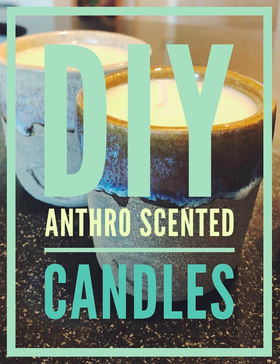 a.k.a. The Capri
Blue Volcano
Candle
Thermometer - Not necessary. It says to keep the wax temp between 150-160F, it barely got above 155F while keeping it on the stove the whole time.
Wax, Candle Wicks. This is a package deal, it comes with 10 lbs of wax, 120 candle wicks, and 3 wick holders. From what I saw online this was cheaper than most 10lbs of wax.
A double boiler, I just got a large pyrex measuring cup. I figured I would get multiple uses from this. I lucked out and it fit perfectly in my small pot!
You could get a metal pot meant for candles cheaper
Essential Oil. The secret scent, fruit slices!!! I read on a different blog that this smells just like volcano and it definitely does. Buy it directly from CandleScience though cause its much cheaper direct than on amazon...even with paying for shipping! I got the 10oz but already know I'll be getting more.
Lastly, you'll need some sort of heat proof jars. I used some ceramic ones I made and a cute mason jar!

I think you could do without the thermometer and pyrex..maybe find a glass dish at goodwill??
Either way, with how much the "luxury" candles cost, I'll make my money back after 2-3 big candles!
Lay everything out. For easy clean up I would suggest putting down a thick layer of newspaper to collect the drips of wax while pouring. You don't really need to be fast, the wax just just stay on the boiler while you prep other stuff. I used some jars I made in ceramics and a cute mason jar.
3. Double Boil the Wax
I used a large glass pyrex. I also just estimated hand fulls of wax. I ended up doing 3 rounds of it, so I would suggest using more than you think!
Once the wax starts to melt a little bit, dip the ends of the wicks into the melted part to stick them to the bottoms of your jars. The kit I got came with these centering devices, a pencil worked fine as well to hold the wick up straight while pouring.
You can twist the top part of the wax around it and it stays pretty well.
5. Add Essential oil
Let the wax fully melt. Mine had a melting point of 130F but never really went above 155F. Once it's all melted you can add the essential oil of your choice. I'm obsessed with the one linked above that smells exactly like Volcano Candles!! Mine said 1oz of essential oil to 1 lbs of wax. I used more than that since I wanted strong candles. This is what the wax looked like melted when I would add the oil!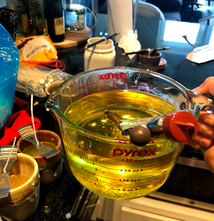 Just make sure to keep the wick tied up otherwise it will lean to one side.
I also read to fill it and then when they harden the wax shrinks a little, mine did not shrink at all.
7. Repeat Steps until they are Full
These were a lot easier to make than I thought! I wish I would have gone to good will to get more jars so I could make a ton while everything was out.
Next time I'm going to experiment with other essential oils!

Hope yours turn out well :)
xoxo,
Jamie