7 Day Itinerary for Iceland
We recently traveled to Iceland for 7 days! We did a full counter-clockwise circle of the country along hwy 1. If you do a shorter trip you could do the golden circle or just go out on the 1 road for about 2 hours to see a lot of the main sights. I also used google maps "My Places" to create a map of each day, with each layer. I'll blog how to use the google maps!!
I'm going to post what we actually did with notes in teal of what I wish we did, what we were planning on but didn't do, or things I think you can skip!! Also, know that you will probably just pull over to see things- we did at least twice a day.
Hope this helps you plan your trip or helps with planning a trip in general.
The numbers labeled on the maps don't match to the wording, just a heads up!
Get rental car. Rental cars in Iceland are known for ripping people off. I'd suggest a) going with a company you know b) using a credit card with insurance for rentals c)getting the "gravel protection" or full protection. The roads were pretty bad, so I would pay more to feel comfortable the whole time.
Baejarins Beztu Pylsur (hot dog) stand was right next to our hotel, we got that right away. I wasn't that big of a fan, but Nick and Jake really liked them.
Hallgrímskirkja Church - You can take the elevator to the top for a cool view of the city, and can see the main area by going to this.
Walk around the city - we stopped and had a beer, and some hot chocolate to chill out for a bit!
Harpa Concert Hall - really cool architecture and its right on the water, the boats around it were awesome.
Sun Voyager- It's closest to the Harpa Concert Hall. Not really necessary to see but it is a pretty unique sculpture!
We slept at Reykjavik Radisson Blu 1919 my mom had hotel points that we used at Radisson, so we stayed there a night at the end as well. It was nice to start and end in Reykjavik. Note: you have to pay for parking on the streets of Reykjavik.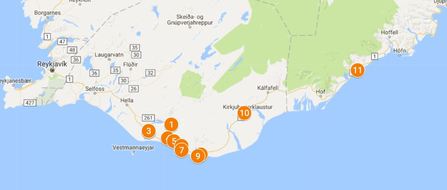 Drive to see the south coast
I wish we spent more time down there because there is so much to see!
Seljalandsfoss Waterfall - For this being a first one, it might be my favorite. It is one of the few that you can walk behind( the next one).....
Gljufrabui - It would have been nice to have rain boots at this one, but we only spent 20 min here. You walk through about 20 feet of cave to then see an awesome waterfall.
Seljavallalaug Swimming Pool - This is a must. Make sure to bring a towel and sandals for the changing rooms! It's about a .5 mile walk to it.
Skogafoss Waterfall - Really pretty and huge. It has black sand at the bottom and stairs to climb to the top.
Fjaðrárgljúfur- GO TO THIS!!! It was so cool and different.
Plane Crash Site - I would just look up the coordinates to it if you go. I could have skipped this. it was about a 1.5 mile hike to the plane and it was just flat land... everyone got their picture with the plane and we walked back. Overal it took about 4 hours to visit it.6. Drive through Vik - stop at black beaches. Really cool, reminded me of Game of thrones.
Sleep at Hali Hotel Check in 9pm- HIGHLY RECOMMEND THIS HOTEL! I could have stayed there longer. The pictures online actually aren't really it...but it was nicer than we thought!
Drive and Sight see on the East coast
Svartifoss waterfall - we skipped this because we thought it would be similar to the rocks at black sand beach. Looking back...I wish we stopped to see it.
Fjallsárlón - a smaller (not as touristy) glacier lagoon near Jokulsarlon. I liked this one more, just because people weren't in my photos and it seemed more peaceful. The guys went in it!!
Jökulsárlón Glacier Lagoon
Drive to Neskaupstadur- I was really excited for this town so we thought we would take time and spend more time there.
Sleep in Neskaupstadur DO NOT RECOMMEND THIS TOWN it was the weirdest/scariest night ever (our guest house was unbelievably creepy) but the hotel we ended up in was actually nice so if you end up there stay at- Hildibrand
Drive North East coast &
Whale watching
Dettifoss Waterfall - HUGE waterfall. Wear waterproof clothes if you want to go close!
Whale watching in Húsavík is a MUST MUST MUST
Dimmuborgir Rocks - We didn't make it to this :/
Grjótagjá cave - We skipped this because all of the ground in this area looked like this.
Myvatn Nature Baths Similar to the blue lagoon but smaller and less people :) Student discount with ID (or proof)
Godafoss -We skipped this.
Note: Driving in this area was difficult with multiple rock/gravel roads.
Akureyri - Guesthouse Akureyri This was a fun place to stay in the city. I for sure could have done 2 nights in Akureyri
Tip: Park your car at the cultural center right behind the guest house on the other side of the street that offers free parking.
Drive to Snaefellsnes Area
We were super tired this day and just decided to go right to the guesthouse to chill out for awhile. The drive was pretty!!
Traðir Guesthouse (4) STAY HERE!!! Probably the coolest place I have ever stayed. It was right on the coast, had horses roaming, and a nice front area!
We took our time at the wonderful Tradir guesthouse.
Black Church- Very unique and looks cool in photos, there are trails around it and lead to the coast too.
Kirkjufellsfoss - This was super pretty with a small peak in the background and a long waterfall. It was hard to get a photo with out people in it though.
On the way back you get to drive through
Icelandic street food- A MUST! and go there hungry because once you buy a bowl of soup you have unlimited refills of any of them. (hint: buy the cheapest first) They have a "hidden" bar nextdoor and we went to a comedy show there at night
This day we just walked around and found hidden streets in Reykjavik.
We were planning on doing the golden circle but we were just all so tired of being in the car.
The Culture Museum- I would recommend this- it was $10 for this and another museum but we didn't get around to the other.
Julia &Julia - cute place for lunch/cafe vibes (connected to museum above)